A Review 
"Elizabeth Ellison begins each painting with a decision about colors and a few simple little lines.
Her spirit seems to blend like a watercolor wash into the world in which she lives.
The resulting vision is such a fusion of the artist's mind with the natural world that it startles."
Tina Benson
"Fort Pierce [Florida] Tribune"
In The News
November 2016
Elizabeth and her husband George were recipients of the 2016 "Blue Ridge Naturalist of the Year" award given by the Blue Ridge Naturalist Network, which is an outgrowth of the Blue Ridge Naturalist Program through the North Carolina Arboretum.
---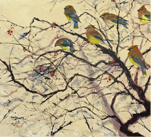 Spring 2010
Elizabeth's "Cedar Waxwings" oil on canvas won Second Place (in Best of Show category) in the First Annual Match My Sofa Art Show in Hendersonville, NC. The reception and award presentation was held June 10, at the Conn-Artist Studios & Art Gallery.
---

May 2007
"Blue Ridge Nature Journal: Reflections on the Appalachians in Essays and Art" was one of four finalists for the 2007 Book of the Year Award (nonfiction category) given by The Southern Independent Booksellers Alliance.
Spring 2007
Appalachian Heritage
Featured Artist
by Ashley Lawrence
---

October 2006
Western North Carolina Woman: "Taking time to listen: the soft music of Elizabeth Ellison"
by Julie Parker
November 2006
Our State Magazine:
"A Natural Harmony"
by Mary Ellen Hammond
October 25, 2006
Smoky Mountain News
by Michael Beadle
---
A Review — North Carolina Arts Council Notable Books by North Carolina Writers. November 2006
Blue Ridge Nature Journal: Reflections on the Appalachian Mountains in Essays and Art, by George Ellison, with paintings by Elizabeth Ellison (Charleston, SC: The History Press, 2006)
My friendship with George and Elizabeth Ellison goes way back, to the first years I lived in the western North Carolina mountains and began to learn about the literary community around me. That's when I met George at a poetry reading and learned about his small publication Unaka Range – "Unaka" being the Cherokee word for our mountains. George and Elizabeth lived, and still live, outside Bryson City in a cabin, and they were determined to follow Thoreau's advice: Simplify, simplify, simplify. They had three children, now grown, one of whom – Quintin – has become a splendid journalist.
George is a poet and the reigning expert on Horace Kephart, and Elizabeth has taught numerous watercolor workshops over the years and brought her vision of this landscape to exquisite focus through her art. As one can see from the following excerpts from Blue Ridge Nature Journal, they work well together. The prose and images are never flashy and pretentious; like the artists themselves, the words and illustrations remain grounded, as if to say, Here we are, this is what we've seen, and we invite you into our lifelong experience of living in the mountains of Western North Carolina. — Kathryn Stripling Byer
Kay Byer, poet and essayist, is the Poet Laureate of North Carolina

The Gallery is open (usually) Tuesday - Sunday from about 10:30 am - 4:00 pm. It is best to call to make sure I am there, especially if you are coming from out of town. I am happy to schedule an appointment at almost anytime as I live close by and LinaBlue and I are happy to have visitors.
Elizabeth is now representing Ann Smith and Quintin Ellison in her gallery in the Old Clampitt Hardware building.
Elizabeth offers private lessons in watercolor at the studio. Give her a call for more information.