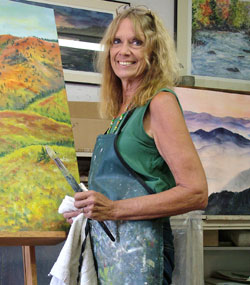 Elizabeth Ellison
Painter and papermaker Elizabeth Ellison is the owner and operator of Elizabeth Ellison Gallery, a studio/gallery located in the old Clampitt Hardware Building on the town square in Bryson City, North Carolina, where she and her family have resided since the early 1970s. A native of Milton NC, Ellison is of Occaneechi Indian descent.
Ellison has exhibited and sold widely throughout the United States for more than 30 years; and does occasional seminars, which include demonstrations in watercolor, as well as offering private lessons in watercolor at her studio.
Utilizing both traditional and oriental techniques – and often employing American Indian motifs – Ellison depicts the varied wildflowers, animals, human inhabitants, and landscapes of the Smokies region and beyond.
Ellison frequently gathers and processes native Appalachian plants to make the handmade papers she incorporates into her paintings. She uses black willow, mulberry, cattail, papyrus, rush, iris, wisteria, yucca, raspberry, blackberry, and more.
The exceptional quality and individuality of Elizabeth Ellison's works led to her inclusion in Fodor's Guide to the National Parks and Seashores of the East.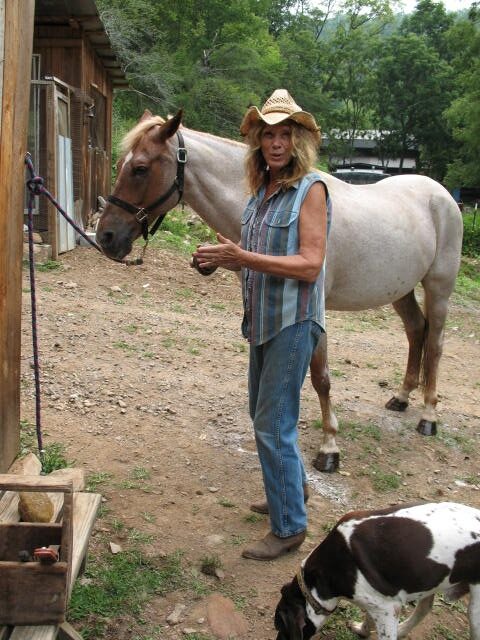 Published Artwork & Exhibitions
• One-person exhibition at The Baker Center at The NC Arboretum, Asheville, NC titled "spirit of Place" (2017).
• Artist and/or illustrator for "The Nature Journal" a weekly column (about 40 years duration) in The Asheville Citizen-Times newspaper- in collaboration with writer/naturalist George Ellison.
• Artist for Botanical Excursions Chinquapin; The Newsletter of The Appalachian Southern Botanical Society.
• Long-time cover artist for Niche Gardens, an award-winning native plant nursery in Chapel Hill, NC.
• Artwork for numerous publications in collaboration with George Ellison including Blue Ridge Nature Journal, Mountain Passages, Permanent Camp, High Vistas (Vols. 1 and 2), and Literary Excursions in the Southern Highlands.
• Cover paintings for Horace Kephart books: Our Southern Highlanders (3rd ed.), and Smoky Mountain Magic.
• Artist for essay in The American Horticultural Magazine 2015 as well as artwork / cover art for numerous publications (other writers work than that of George Ellison).
• Artwork commissioned by North Carolina Governor Beverly Perdue as gifts for ten attending governors at a Southern Governors Association meeting in Asheville NC.
• Invitational seven-artist exhibit and panel discussion; "Within the Lines" sponsored by The Wilderness Society in Handmade in America Gallery in Asheville, NC (2014).
• Two-person invitational at The Swain County Fine Arts Center, Bryson City (2014).
• Two-person exhibition at The NC Arboretum, Asheville, NC (2013).
• One-person invitational exhibition at The Botanical Garden, Chapel Hill, NC (2013).
• Featured artist Appalachian Heritage Quarterly magazine (Spring, 2007).
• Featured artist for article in Our State magazine (November).
• Artist for the movie "Songcatcher", (released in 2000).

The Gallery is open (usually) Tuesday - Sunday from about 10:30 am - 4:00 pm. It is best to call to make sure I am there, especially if you are coming from out of town. I am happy to schedule an appointment at almost anytime as I live close by and LinaBlue and I are happy to have visitors.
Elizabeth is now representing Ann Smith and Quintin Ellison in her gallery in the Old Clampitt Hardware building.
Elizabeth offers private lessons in watercolor at the studio. Give her a call for more information.